[ Home ] [ Up ] [ Biography ] [ Booking Us ] [ Discussion List ] [ Jeff's Ramblings ] [ Join our mailing list ] [ Links ] [ Merchandise ] [ Photo Album ] [ Questions ] [ Schedule ] [ Song List ] [ Street Teams ]
Our Truck is for sale.
$2,600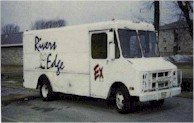 That's right the Riverz Edge truck is for sale. It will be sad to see the truck go but we are just running out of room. We have been running this truck since 1993. I remember it well. I was a Senior at Appleton East-High School. All the chicks wanted to ride in my truck!
The truck is a 1979 GMC P-30. Dale and I replaced the engine last October. It runs great, always starts in the winter. All six tires have about 3 months of wear on them. We took very good care of the truck. (It was our baby.) It is a perfect band truck or for any other needs.
If you would like to see the truck or need some more information please contact me at: truck@riverzedge.com
[ Home ] [ Up ] [ Biography ] [ Booking Us ] [ Discussion List ] [ Jeff's Ramblings ] [ Join our mailing list ] [ Links ] [ Merchandise ] [ Photo Album ] [ Questions ] [ Schedule ] [ Song List ] [ Street Teams ]
Send mail to Jeff with questions or comments about this web site.
Last modified: August 7th, 2000