Biography
---
The Band
River's Edge is a four piece rock band based out of Menasha WI. They have been touring Northeastern Wisconsin for three years and play clubs, parties, weddings and festivals. The band has been influenced by many great classic rock bands from the Beetles to Kiss and from newer groups like R.E.M. to Lit. Although this may leave many bands in between, this only describes the diversity of River's Edge. What's most important is that, together, they have a great time on a nightly basis with their special blend of styles. River's Edge may be a little fish in a big lake, however, they have definitely out grown the pond they were in.
---
Jeff Stebane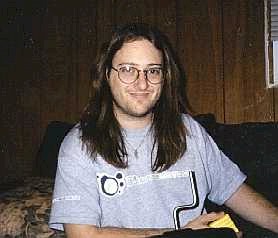 Lead Vocals & Guitar Inspired by great rock bands like Kiss, Boston and The Dead Milkmen. Jeff adds energy to the band with his energetic performance and audience interaction. He also enjoys watching movies especially the National Lampoon's Vacation series. If you use Icq messenger you will likely find Jeff online late at night, his number is 41583822.
For More Information Contact:
Internet: Jeff@riversedgeband.com
---
Randy Dean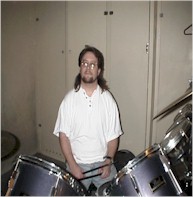 Drums
Randy is from a family of musicians. He has played all types of music from polka's to rock, He has been a drummer for the last 15 yrs, and has 2 children and is married. The people that have inspired him are his dad ARKIE, mom GINGER, a lead player name John Whitt, and drummers Mike Mintz and last but not least his mentor THE 1 and ONLY FRITZ BROWN!!!!!!!!
---
Doug Martens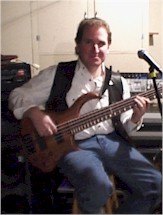 Bass & Vocals
Doug started playing guitar at age twelve and switched to five string bass ten years ago. He enjoys a wide variety of music from blues to metal. Some of his favorite performers include Motley Crue, BB King and Def Leppard. Doug is the only member of the band who has been SHOT!
For More Information Contact:
Internet: E-mail Doug
---
Dale Thoma
Lead Guitar & Vocals
Dale expends a great amount of energy in perfecting is guitar tone. Some of his greatest influences include Stevie Ray Vaughan, Kid Rock and 38 special. Dale is quite the handy man, and recently changed the engine in the Rivers Edge truck. Dale, living in New London, takes a strong interest in his community.
---
Joe Zier
Sound & Lighting Technician
Joe looks up to musical greats such as Led Zeppelin, Anthrax, and Pantera. He also looks up to his good friend Jeremy Roseland, from the band Plastic, and his brother Tim. Joe loves the road so much that in the last seven years he has never missed a show. Joe tries to be a tuff guy, but he will never pass up an Abbott and Costello movie.
For More Information Contact:
Internet: Zier2345@aol.com
---
The Truck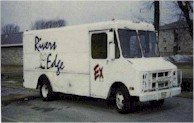 The River's Edge truck is a 1979 GMC P30. The band has been using it for seven years and counting. Air leaks in the cab tend to make long winter trips a bit chilly (burrr!)
---